The assumed trade-offs between centralisation and decentralisation are often cited as efficiency versus flexibility, standardisation versus responsiveness, or control versus innovation. One impact of COVID-19 has been the rapid transformation from centralised, office-based teams to a decentralised home based workforce and it is highly likely that the future of working is a hybrid model that strikes a balance between the two. Much has been made about the benefits of remote working however not everyone believes this is sustainable, contrary to the position taken by companies like Coinbase, who recently announced a 'remote first' approach. Technology and corporate culture certainly play a defining role in whether organisational leaders are comfortable with a decentralised workforce that is home based but decentralisation does not equal a loss of efficiency, or a lack of control..
With the technology that's readily available on today's market the advantages of centralisation can be captured in a cloud based solution that's implemented in a way that allows you to retain oversight whilst your teams work remotely.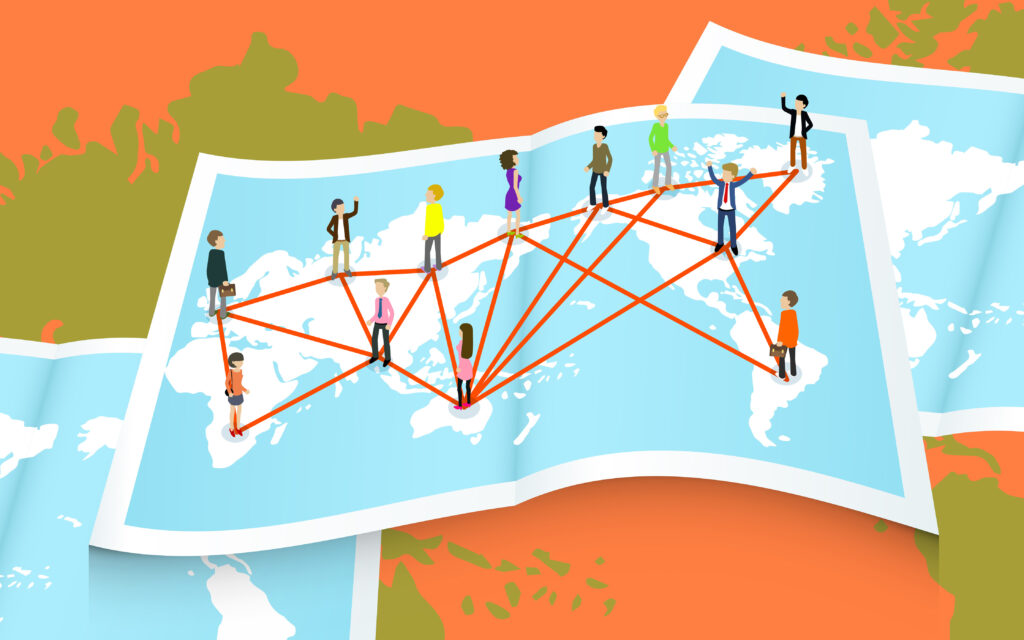 Here are 5 advantages of centralisation that can be delivered by a cloud based solution
1. Clear chain of command
Systems that model your organisation's hierarchy and set permissions, or escalations, according to role and position ensure that the responsibilities granted to each role are maintained when teams work from home, or alternate locations.  The capacity to define access can allow precise control over the actions that can, or cannot, be executed within your cloud solution, ensuring that key decisions are made by the right people.
2. Collaborating whilst decentralised
Working across team, or organisation, boundaries can breakdown silos and foster innovation. Sharing tasks, documents, knowledge, or information can help to form bonds that reach beyond assigned teams and there are myriad solutions available that are proven to connect people across the globe – even with time and language barriers to overcome. Systems, unlike offices, are available 24/7/365 allowing work to be done beyond the usual confines of the 9-5.
3. Visibility of output
'What gets measured, gets managed' so say Ridgway and Caulkin (not Drucker), and this was not a compliment. The culture of performance managing everything to death has its drawbacks and the shift to focussing on outcomes (not processes or outputs) can be readily supported by cloud based solutions. The time wasted collecting data to evidence achievement of targets can be saved when systems are designed to automate manual processes, and capture output activity, as our most valuable assets – our people – utilise their knowledge, skills, and experience to better understand the drivers behind realising those corporate aims.
4. Compliance and conformity
Some business functions require a higher level of compliance and conformity to ensure standardisation of output, although this does not necessarily mitigate the risk of varied outcomes. Common rules might ensure a level of consistency that reduces the risk of deviating from the business's overall objectives, but these can often be captured in a system. Systems love rules and are very adept at enforcing them! Standard operating procedures, shared business policies, quality expectations, risk appetite, reporting conventions – these can all be programmed into a cloud based solution that is purposefully designed to ensure that decentralised teams can work according to the any given business convention.
5. Economies of scale
Having specialised units take on specialised tasks to concentrate knowledge in a way that is more economical, and efficient, is beneficial. The beauty of a system solution is that expertise, and efficiency, need not be lost when teams work in dispersed ways. A well designed solution will capture the end to end process, and the nebulous elements of the process that are often person specific. Better yet, the risk of duplicating effort is minimised when a system is purposefully designed to streamline processes in a way that aggregates the activity of its end users into a central repository that can be accessed by as many people as required. This democratisation of knowledge is powerful and necessary in organisations where turnover is high as the risk of losing your knowledgeable experts is ever present.
Learn more about Complete CLM and some of the solutions we're building to contribute to decentralised working.
https://calendly.com/completecontractmanagement/product-demonstration